Projects
Absolute Condominiums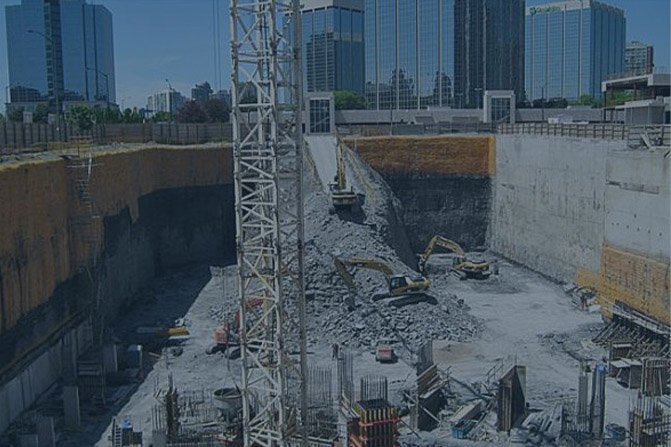 Location:
Mississauga, Ontario
Duration:
June 2007 - June 2009
Project Team:
Isherwood Associates, Anchor Shoring & Caissons Ltd.
Project Details
Located at Hurontario Street (Highway 10) and Burnhamthorpe Road in Mississauga, Absolute is a high-rise condominium development where Phase 4 shows off rare curvature shaped residential buildings. Unique to the Mississauga area, these landmark 40- and 50-storey towers include six stories of underground parking.
Using shotcrete shoring methods for the upper weathered rock, the foundation construction was completed in stages to a depth of approximately 60 feet.
Scope
The monitoring program consisted of readings at more than 400 survey targets on every other individual soil nail, three borehole inclinometers and 60 precision survey targets on the existing high-rise buildings adjacent to the site.
Instrumentation was read at varying frequencies as requested in order to provide the Shoring Engineer and Shoring Contractor the ability to take proactive measures ensuring construction costs were minimized while the design strength was verified on a continuing basis.
Noteworthy Aspects
The monitoring data collected allowed the Shoring Engineers to interpret movements based on the dynamics of the soil nails and the soil behavior. They were able to analyze the shoring design performance to which then allowed them react proactively to movements.