Projects
Bolsover Dam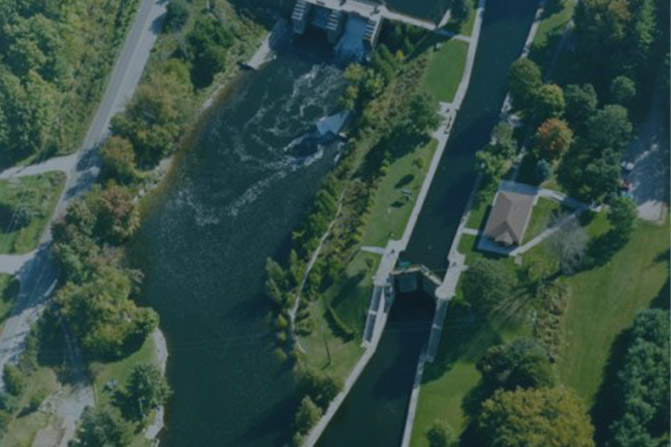 Location:
Bolsover, Ontario
Duration:
July 2013 - June 2016
Project Team:
Isherwood Geostructural Engineers Inc.
Project Details
The project team embarked on replacement of the dam, which was constructed in 1902-1903 at Lock 37 located on the Trent Severn Waterway. The dam had come to the end of its lifespan and was to be completely demolished and replaced.
Rebuilding the dam from the foundation up required construction of an upstream cofferdam to route the water away from the existing structure. It also required that the boat channel located at the south of the dam remain completely operational during construction.
Scope
The monitoring program consisted of survey monitoring of the upstream cofferdam as well as the sheetpile walls constructed on the downstream side of the existing dam which were required to protect the roadway and grassy median between the dam and the channel. Inclinometers were placed at the pier located at the mouth of the channel as well as throughout the cofferdam and were used to observe the movements of the existing structures and newly founded temporary dam as the water was removed from around the existing dam structure to allow workers a dry area to demolish and then begin building the new structure. With electrolevels mounted to the concrete perimeter of the pier, continuous real-time monitoring of its behaviour was relayed to the client if movements exceeded the allowable limits.
Noteworthy Aspects
The pier located at the mouth of the channel was founded on unknown materials so monitoring of its behaviour was critical to the project's success. Using precise survey methods, inclinometers and electrolevels, which were coorelated to the changing water elevations, we were able to provide the client with in-depth knowledge as to how the pier was performing.