Projects
Finch West Station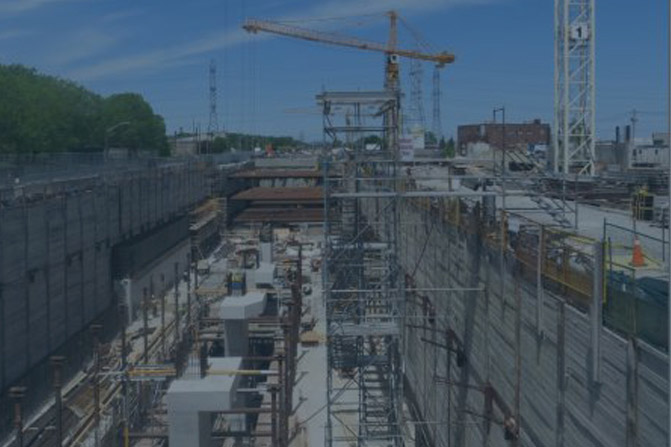 Location:
Toronto, Ontario
Duration:
January 2012 - September 2017
Project Team:
Bondfield Construction Company Ltd.
Project Details
Finch West Station was constructed as part of the new Toronto-York Spadina Subway Extension (TYSSE) to bring subway service to York Region. At the corner of Keele Street and Finch Avenue, the station was constructed using cut and cover method at one of Toronto's busiest intersections.
Construction required a substantial monitoring program that included real-time continuous readings of a number of different structures, but most significantly, a large diameter gas main and a large feedermain that supplied water to the north end of Toronto. Using electrolevels mounted directly to the utilities, we provided continuous monitoring of the behaviour of these utilities throughout the four-year construction process.
Scope
The monitoring program consisted of settlement monitoring of adjacent structures and soils around the perimeter of the site, deformation monitoring of the shoring walls, vibration monitoring of the two buildings closest to the site, and monitoring of groundwater levels throughout the work.
The settlement and real-time continuous monitoring of the utilities were completed using two methods of monitoring: high precision survey readings - where we were able to attain accuracies +/- 1 millimetre at two very sensitive areas of the site, which is extremely challenging in an active construction environment – and real-time electrolevel monitoring, where the electrolevels were affixed directly to the utilities and monitored for rotation and/or settlement.
Noteworthy Aspects
The monitoring program was very substantial and challenging to maintain with the continually changing environment. Daily readings of settlement points and inclinometers required us to plan for a dedicated survey team and a technician to read the manual instruments. The automated instruments were set up with threshold alarms so that we were able to notify the client immediately of any significant changes that occurred throughout the work.