Projects
Billy Bishop Pedestrian Tunnel and Exit Shaft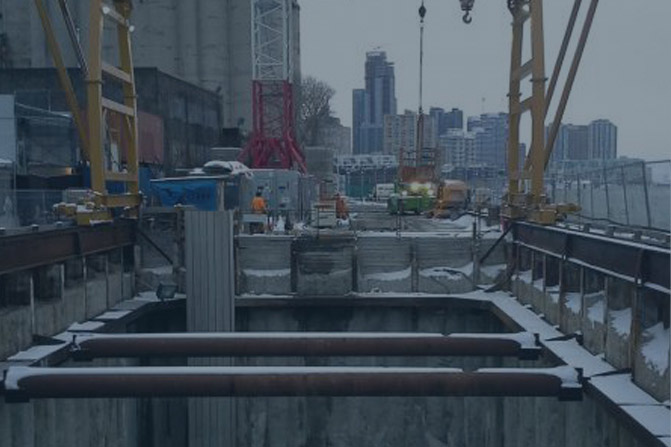 Location:
Toronto, Ontario
Duration:
June 2012 - December 2014
Project Team:
Isherwood Geostructural Engineers Inc.
Project Details
Located on Toronto Islands, Billy Bishop Toronto City Airport is Canada's ninth busiest airport. As an alternative to the existing ferry service for transporting pedestrians from the mainland and island terminal buildings, and to increase pedestrian movement, the project entailed an under-lake tunnel spanning the Western Gap in Toronto Harbour.
Construction on both the mainland and island sides included shafts over 30 metres deep and required extensive monitoring as Lake Ontario was only a mere 6 metres from the mainland shaft.
Scope
The monitoring program consisted of survey monitoring of the nearby existing mainland ferry terminal and the existing terminal building on the island side. Monitoring of the secant piled shaft walls for deformation was also performed by adding survey targets to each pile and using a combination of attached and borehole inclinometers around the perimeter of both shafts.
To monitor the pipe struts that were installed to provide additional shoring support for this deep excavation on the mainland, strain gauges were mounted to each strut. The gauges were cabled to a centrally located terminal box where manual readings were taken and the resulting load was provided.
Noteworthy Aspects
Monitoring of the shafts was critical to determine the performance of the shoring system as Lake Ontario was only 6 metres from the mainland shaft. Due to the geometry on site and depth of excavation, a gantry crane was installed that ran along the north and south sides of the mainland shaft which limited access to the monitoring instruments in these areas; readings of the instruments were carefully coordinated to protect the safety of the monitoring specialists while causing little to no disruption to the production schedule.