Murano Condominiums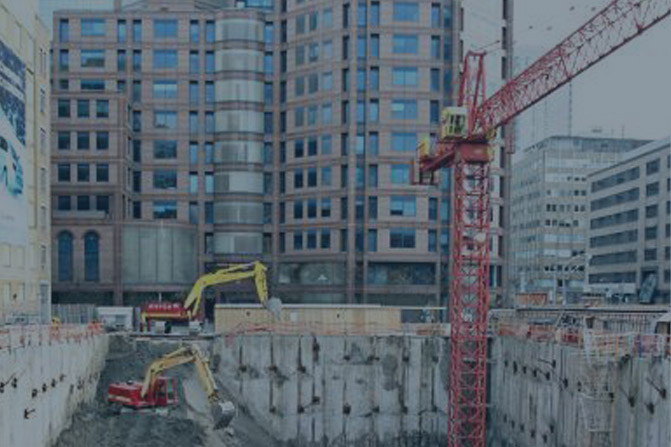 Location:
Toronto, Ontario
Duration:
February 2005 - November 2006
Project Team:
Deep Foundations Contractors Inc., H&aR Developments, Isherwood
Project Details
Located in downtown Toronto, Murano Condominiums is a two- tower high-rise condominium development. Boasting a remarkable 7 storeys of underground parking, the site was one of the deepest excavations in the Toronto area at the time.
The shoring design called for an excavation of approximately 21 metres deep to accommodate nearly 400 parking spaces. Due to the depth of this excavation, a rigorous monitoring program was utilized to ensure little to no impact on the surrounding businesses and residents, including Toronto Police Headquarters and busy Bay Street.
Scope
The monitoring program included assessing the deflection of the shoring system and potential impact on the buildings and structures next to the excavation.
Deflections of the secant walls were monitored using pile targets and inclinometers while adjacent buildings were monitored with precision targets.
A series of SMART cables were installed to monitor tieback loads throughout the west wall, where the soil conditions were especially complicated. The SMART cables allowed for the Shoring Engineer to evaluate the anchors in-situ behavioural characteristics, providing assurance for an innovative shoring design. Instrumentation was read at varying frequencies as requested in order to provide the Shoring Engineer and Shoring Contractor the ability take a proactive approach to the design elements ensuring construction costs were minimized while the design's performance was verified on a continuing basis.
Noteworthy Aspects
When a section of the secant wall was broken due to construction activities in the area, monitoring readings from a nearby inclinometer and pile target monitoring aided in providing reassurance that the shoring wall integrity was not compromised and it was merely a localized failure brought on by over-excavation coupled with a misalignment in caisson interlock.
Monir provided additional services to verify the secant wall was plumb nearing the base of the excavation to prevent over-excavation in other areas of the site.
A co-ordinate conversion was also completed to ensure the building wall thickness would not be compromised due to these changes in site conditions.