Projects
Union Station Tracks 13 & 14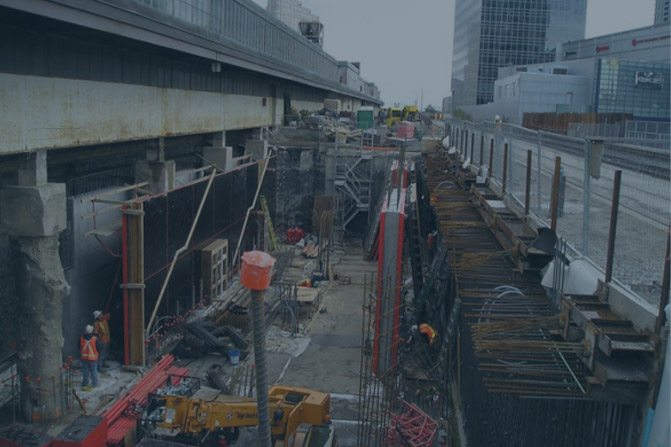 Location:
Toronto, Ontario
Duration:
February 2007 - May 2008
Project Team:
Isherwood Associates, Anchor Shoring & Caissons Ltd.
Project Details
Located in the heart of downtown Toronto, Union Station was constructed between 1914 and 1921 when, after the great fire in 1904, the Canadian Pacific Railroad thought a larger station was needed. The station is a central hub for commuter traffic and distance travelers and is said to be the busiest passenger transportation facility in Canada.
An additional two sets of tracks were constructed in preparation for future construction as the existing railway tracks were to remain operational during the revitalization of Union Station. The strict monitoring program required precision monitoring at high frequencies throughout construction to ensure little to no movement of the active railways.
Scope
The monitoring program was devised to detect deformation and / or settlement of the existing tracks nearest to the new construction, as well as the excavation shoring wall.
The shoring wall, constructed using an interlocking caisson design, was monitored using pile targets and borehole inclinometers which were setback from the wall. Seventy precision survey targets installed at track level were read at varying frequencies ranging from daily to once per week based on the construction activities. Flexibility in the reading frequencies enabled the Shoring Engineer and Shoring Contractor to minimize construction costs by taking a proactive approach to the design while still meeting the requirements of the specifications.
Noteworthy Aspects
Daily monitoring of existing railways and the excavation shoring wall provided almost real-time results as our technicians processed all data on-site.